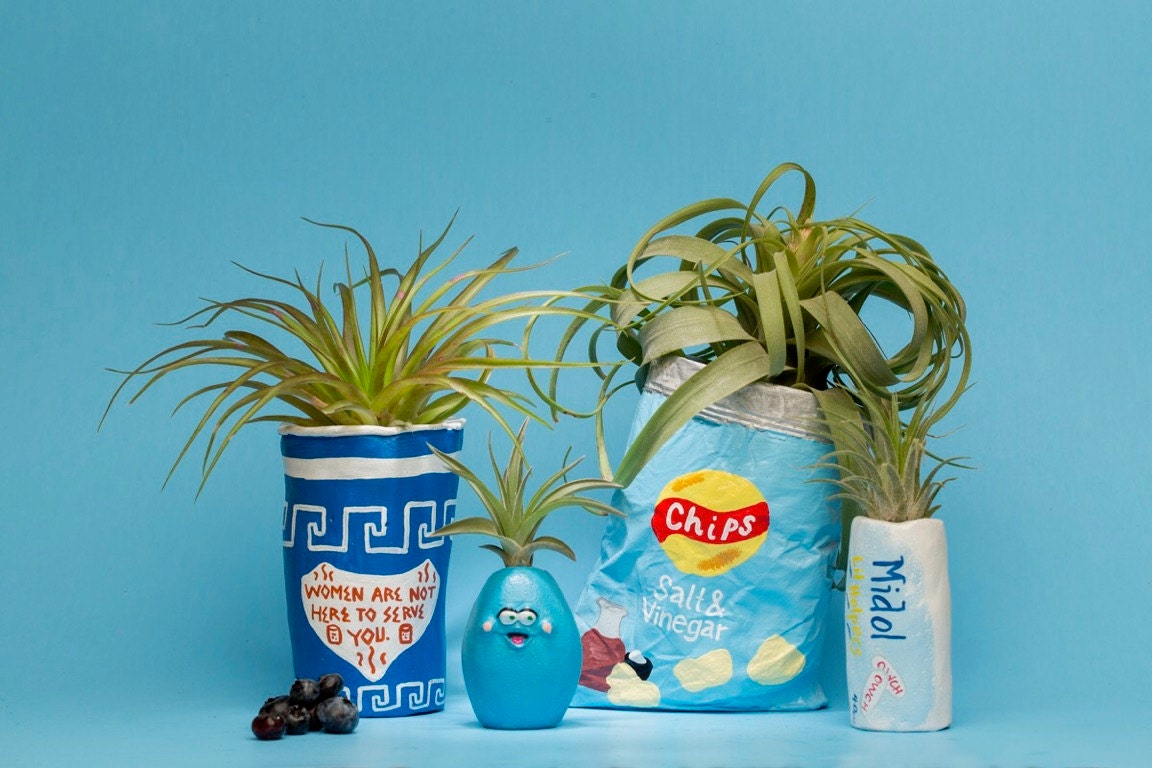 hello ! come on in !
٩◔‿◔۶
welcome 2 hello happy plants... up in your computer / phone screen !
--->here you will find happy plants, hand molded / hand painted cement plant homes, T shirts , pillows, ridiculous packaging & all things happy<----
---> all planters are cast in silicone molds with gypsum cement,, from an original mold of mine. they are each handmade & handpainted , so photos are indicative...! i try.... but no planter is exactly the same :}
--->t shirt designs are screen printed onto high quality transfer paper & then pressed with an industrial heat press !
--->
-----> HELLOHAPPYPLANTS [!at] GMAIL.COM
$$$$$$$$ I SHIP MONDAYS + WEDNESDAYS + FRIDAY $$$$$$$$
enjoy!!!!!!!!!!!!!!!
----> planters can also be found ::
-NYLON Shop
-witchsy.com
-american two shot, new york,NY
-mixed nut, san francisco, CA
-sex and ice cream, OKC
-junior high, los angeles, CA
-grease 3, STL
-flowers and weeds, STL
-non society hands, new orleans, LA
-world famous original, los angeles, CA
-friends & neighbors, austin, TX
-project object, portland, OR-grassroots juicery- NY
-cadeau, nashville, TN
-fold, los angeles, CA
-forage modern workshop, minneapolis, MN
-prism, seattle, WA
-circulo cuadrado, san juan, PR
-wiseblood, gainesville, FL
-bad apple vintage, reno, NV
-third drawer down, australia-ochi shop, los angeles, CA
-country girl, KY
-no 808, HI
-friends vintage, NYC
-wildfang, portland, OR
-general admission, venice, CA
-american two shot, NYC
-as issued, san deigo, CA
-Jeanean Morrison, TN
-grassroots, NYC
-outpost vintage, CANADA
-parklife, san fran, CA
-vortex, wichita, KS
-city bird, detroit, MI
-cosmic earthly, TX
-colorant, beacon NY


&& follow HHP on more inter web outlets!!
@hellohappyplants
facebook.com/hellohappyplantss